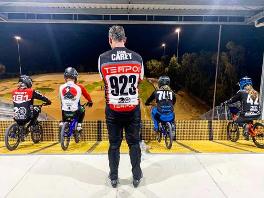 20INCH TRAINING PHILOSOPHY:
"Development and performance is a skill that requires mastery. You must learn, take action and practice consistency, but above all, understand your role"
- Coach Adam
THE 20INCH MISSION:
To bring a level of professionalism and independence to coaching services provided to athletes. Building education, self-reliance and effective coaching strategies designed for improving their performance with confidence.
20inch training programs are designed for progression. 20inch training head coach, Adam Carey, has over 24 years of BMX racing experience and an education that will be able to assist all levels of BMX competitors. A Bachelor's degree in Sports Science, Honours in Sprint cycling for recognising training fatigue, CSCS, Advanced BMX/MTB accreditation and PhD in BMX Supercross research.